InOne IIoT Platform
Integrated IIoT platform for fast transformation of complex systems to new level of digitization.
A digital platform that allows working in a unified interface with any manufacturer's equipment, protocols and data of various formats from anywhere in the world or from a corporate network through a browser or mobile app.
We create powerful solutions in the field of Industrial Internet of Things for the state and business.
How it works:
essentials in 3 minutes
Three rules for fast jump
to a new digitization level
1

Support of protocols and interfaces

InOne supports a great number of communication protocols and program interfaces from different vendors. The HeadPoint team helps to integrate with existing equipment. Save time and budget by implementing solutions with HeadPoint.

2

In-house developer staff

In-house architect and developer team which allows maximum simplification of the software integration process. The HeadPoint team will provide expert support at each project administration stage.

3

Ready-made industry solutions

Ready-made industry solutions based on InOne have been tested and successfully applied in business.
InOne platform architecture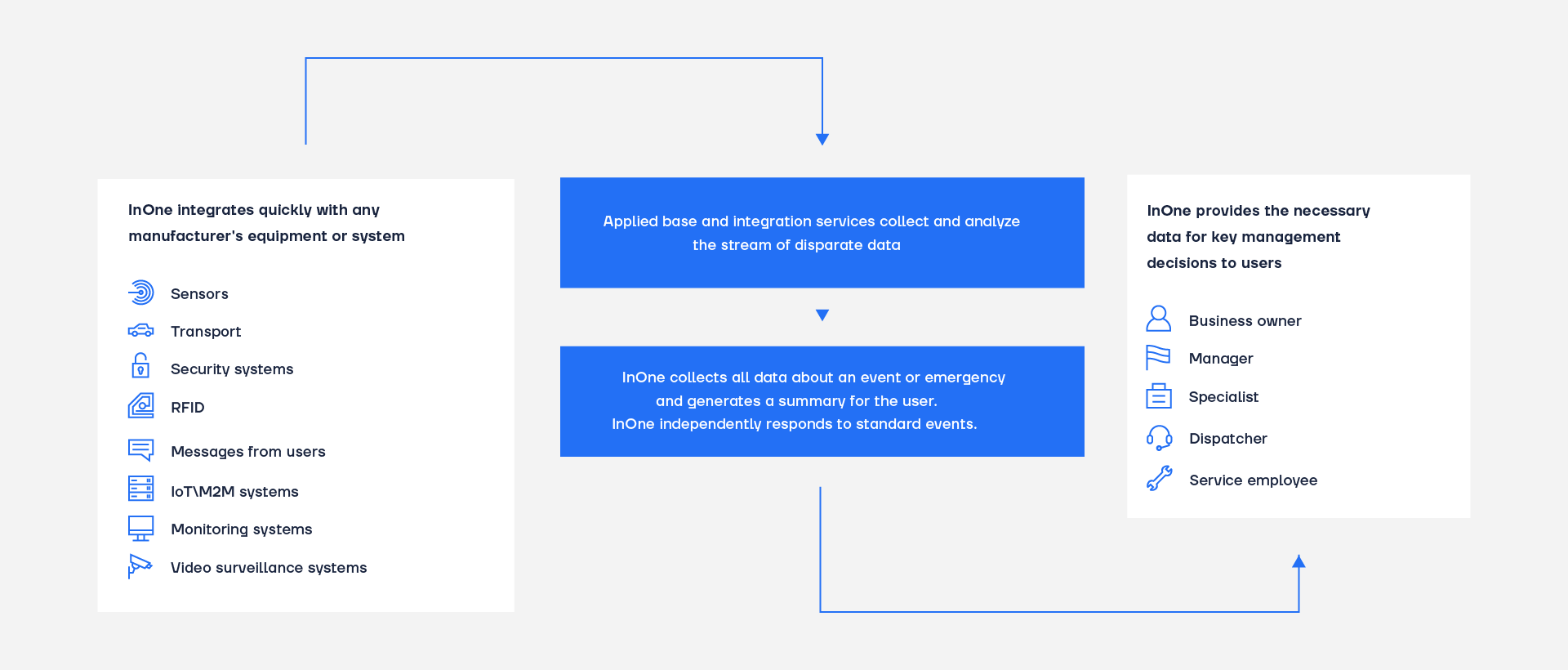 Plug in and use only the components you need
InOne is a platform for optimum combination of IoT solutions, modules, and optional technologies. You decide where you want to start your digital
development from, from a specific solution or you are facing a global challenge? Look how you can use InOne.
Ready-made industry solutions

InOne Kernel + Industry Adapters
and Technologies

Use InOne to integrate with telemetry and currently installed control and monitoring systems.

Integrated solutions

InOne Kernel + Industry Adapters and Technologies + «InOne. Unified Video Monitoring System»

Use InOne to integrate with telemetry, currently installed control, monitoring and video surveillance systems.
Functional advantages
Extensive capabilities
of connecting IoT devices

InOne supports a large array of communication protocols and program interfaces, including XML-RPC, MQTT, SNMP, OPC, modbus, SOAP, SQL queries, REST-API, SDK, of equipment vendors API. InOne can use to necessary services of your equipment which are described and available through any software interface.

Single
data model

InOne's single data model provides a common flexible approach to configuring, controlling and monitoring any devices and data sources. This allows a quick adaptation of the platform to meet specific business challenges.

Modular, scalable
and reliable IoT architecture

The modular micro-service architecture and container virtualization allow simple scaling of the platform. New features or applied components can be added to the platform without interrupting business processes.

Secure communication
between devices

All communications between servers and agents are established through secure SSL connections.

Incidents
and event processing

The platform allows optimization of user operations using automatic processing of incoming events on the basis of customizable response scenarios. You can use different options to notify users in the browser, by e-mail or text, manage control cameras, generate photo and video reports. You can create your own multi-level scenarios, expanding the platform capabilities.

Flexible and reliable
role model

From the very beginning, InOne has been designed with a multi-user approach, providing flexible permission configuration for a large number of objects, users, and data sources.

Specialized role model for user permission management and integration with the Active Directory service allows personalized control of access to any monitoring object, video cameras and sensors, individual interface elements and system functions.

Automatic analysis
of the situation on sites

Monitoring of territories, locations, people and behaviors by means of video image analysis. InOne uses video analytics detectors of different manufacturers.

Monitoring of users
and their actions

InOne provides continuous monitoring and logging of system activities, ensuring monitoring of current user connections and system processes.

Automatic task assignment
and planning

InOne allows creation of automated tasks according to customized schedule, with generation of long-term photo and video archives, photo and video material exports from remote sites, ensuring efficient usage of communication channels.

Real-time visualization
of incidents and events

InOne uses GIS platforms surveillance cameras, video surveillance cameras to visualize monitored sites, deployed CCTVs and sensors, display events occurring on maps and plans in real time (do not require an Internet connection).

Incident
management

InOne generates incidents based on the event log, providing users with all the information they need to resolve the incident and pre-configured scenarios, controlling staff procedures, and notifying those responsible for identified violations.
Examples of solutions based
on InOne IIoT platform